Exporting Globally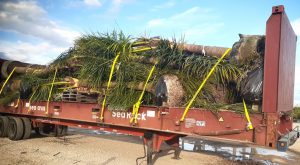 Over the past thirty years, we have shipped to five of the seven continents as well as many destinations within the continental United States and Canada. Successfully shipping living plant material requires adherence to their basic fundamental needs, which when appreciated and provided for, greatly increase the likelihood of their arrival in good condition. Given our years of experience, we know what is required and consequently what is necessary to succeed in shipping your tropical plant order.
It is not just the knowledge of what needs to be done, but making sure that the necessary steps are taken to achieve successful results. At Botanics Wholesale, our reputation is reflected in every single order that leaves our nursery, be it a single tree for a home on Miami Beach or multiple containers for a hotel development in the Caribbean.  We want to be certain that you, our customer, is not just satisfied, but ecstatic that you chose us for your palm and tree order.  We have the skill along with the resolve to make the most of your shipping budget.  We understand that we can only be successful if you are.  With Botanics Wholesale, you can be assured that you will receive the best quality plant material, loaded with care, while maximizing your container to realize a full pack-out.
With 67 acres, we are small enough to care but large enough to provide you with many hard to find specimens that only we grow and that will assuredly help create that unique statement.  Whatever items we may not grow, we are able to source locally from the many other fine nurseries and horticultural suppliers in the Homestead area with which we have long standing relationships.